One of my favourite series is "Outlander".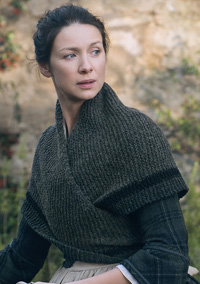 This shawl is inspired by one of Claire Fraser's shoulder shawls from the "Outlander" series, hand-knitted from 250g of high-quality yarn (85% virgin wool, 10% acrylic, 5% viscose) (12.20 Euro/100g) medium grey, contrasting colours in light and dark grey.

This Highland shawl provides very pleasant warmth for the sensitive shoulder area. It is certainly also suitable for cosplayers or simply for Outlander fans who are looking for something special. The perfect gift for a girlfriend, mother and/or Outlander fans of any age.

New wool is a natural product (from sheep) keeps you very warm and can absorb a lot of moisture. New wool is a little more demanding when it comes to care. Ideally, wash handicrafts made of this material only by hand and let them dry lying down.
Please follow the care instructions so that you can enjoy this beautiful garment for a long time.

The yarn used is OEKO-TEX® certified (No. 1976-294).
More information about the certification at https://www.oeko-tex.com/de/.