In the first season of Outlander, Claire wears this coarsely knitted scarf while gathering herbs with Geillis Duncan.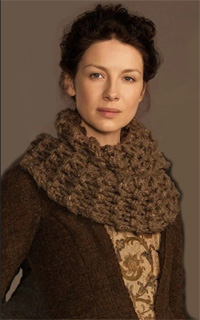 This inspired me to knit this little stole out of 130g high-quality tweed yarn (85% virgin wool, 10% acrylic, 5% viscose) (12,20 Euro/100g) in brown curly. Nice and loose in needle size 8.
Virgin wool is a natural product (from sheep) keeps you very warm and can absorb a lot of moisture. New wool is a little more demanding when it comes to care. Ideally, wash handicrafts made of this material only by hand and let them dry lying down.
Please follow the care instructions so that you can enjoy this beautiful garment for a long time.
The yarn used is OEKO-TEX® certified (No. 1976-294).
More information about the certification at
https://www.oeko-tex.com/de/
.
Height: 30 cm
Diameter: 56 cmClaire's photos Source: Outlander Starz